It's a wild time in Gaming for 2022, there are so many new things coming into the industry with good and bad reception.
Blockchain technologies, the metaverse and play-to-earn boomed in 2021, with NFTs and digital assets and ownership becoming a hot topic. However, the adoption from gamers is varied and may not have been intended, with a strong narrative stating NFTs are scams, instead of adopting new technologies.
We at goto.game in an interesting debate around where Gaming will be in a few years time and with more information like this Newzoo article shedding light on upcoming trends, we're excited for what's next. Here are Gaming Trends in 2022.
Play-to-Earn becoming more a business model
Gamers have been living in digital worlds since the earliest days of the internet. Hundreds of hours playing their favourite games, building friendships, having fun and making memories.
Games have been a form of entertainment and joy and more recently have allowed thousands of people to earn a living doing what they love. Whether it be by playing as an esports professional, live streaming or creating content.
What Play-to-Earn offers to the broader gaming community is the ability to build an income stream outside of your traditional workplace. If you're already playing games you could now earn from them too. This could supplement your full-time income to pay the bills, a fund that holiday you've always dreamed of or save and invest.
For those less fortunate in countries like Venezuela and the Philippines, which have a somewhat scattered economy, play-to-earn enables gamers and people to earn to support themselves and their families.
Axie Infinity is one such game and ecosystem that has provided life-changing opportunities to its players and asset owners.
There is now a new term of Play-and-Earn floating around that aims to reposition how these games are described. Play-to-earn leans towards only playing to earn money, Play-and-earn tends to describe you have a choice to play and to earn.
MetaVerse
The concept of the Metaverse is vast, it involves our physical lives as we know being ported to an online utopia.
A place where we can be and do anything we want, connecting with people from around the globe, with curated or manufactured personas.
Ready Player One is a consistent reference to what the Metaverse could look like in the future.
Facebook even announced their new parent company, Meta, which aims to bring the metaverse to life to help people connect, find communities and grow businesses.
A lot of these experiences talk about the Metaverse being a place that we're all going to and even comparisons to the Renaissance, where the metaverse is not a place we're all going, but a moment in time where there is a massive cultural shift to our digital personas and online communities.
For gamers and tech enthusiasts, this may seem more natural of a transition, but for the broader population, these changes have been accelerated by the pandemic.
The future of the metaverse will be an exciting and daunting place and we're excited for what it has to offer.
One of our favourite Gaming Trends in 2022.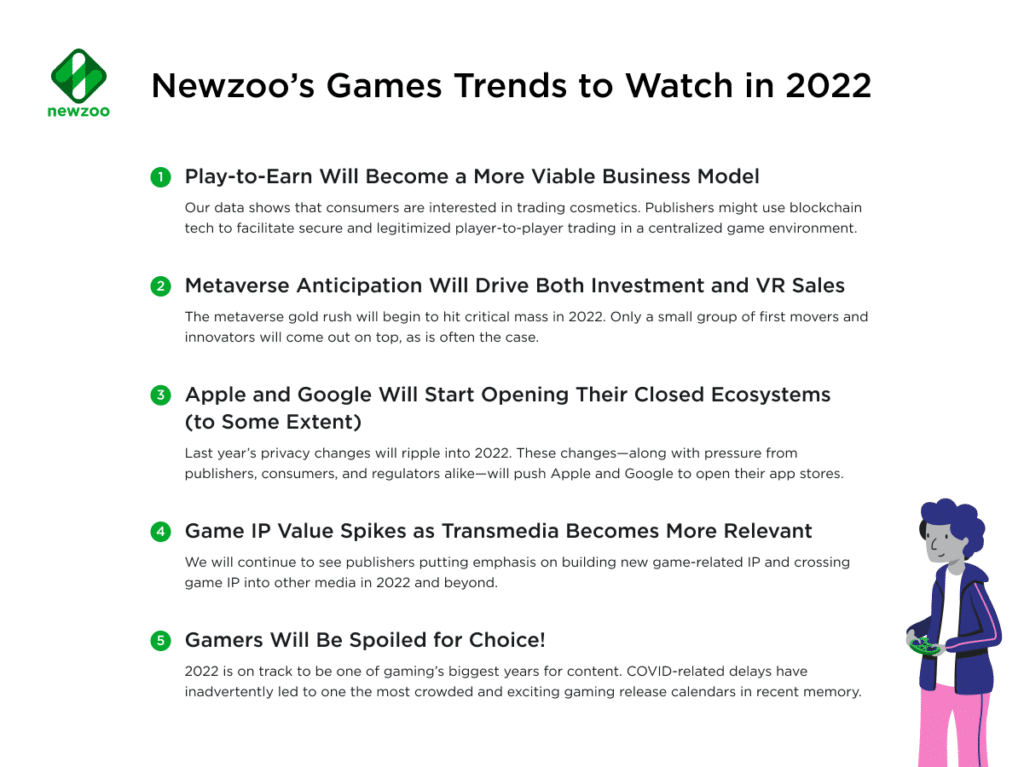 Opening Closed Ecosystems
There is a wave of cross-play and integration in the gaming industry that is opening up opportunities for players on all devices and platforms to connect and play.
This means that the platform distributors and publishers need to provide the necessary infrastructure to play, share and monetize.
With play-to-earn and metaverse applications primarily being built on decentralized technology (Blockchain and crypto), Apple and Google may find more developers and communities moving towards decentralised apps (dapps).
Game IP and Transmedia
Not sure about you, but we loved The Witcher and Arcane on Netflix. Games have hit mainstream pop culture and now are being adapted to all forms of entertainment.
Halo (Paramount+)
The Last of Us (HBO)
Fallout (Amazon)
Borderlands
Uncharted
This also leans towards the metaverse, where game characters are crossing between worlds and playable in different ways. For example, Spiderman was released with swinging mechanics in Fortnite.
Definitely keen to see more cross-over between games, music and film.
Gamers Spoilt for Choice
The backlog keeps on growing.
There are so many games coming us and due to COVID-related delays, they're all releasing in a similar period.
God of War Ragnarok
Pokemon Arceus
Diabloe Immortal
Sifu
OlliOlli World
Horizon Forbidden West
Elden Ring
Grid Legends
Just to name a few. This doesn't even include expansions or DLC…
What's Next?
These have been Gaming Trends in 2022, with information from Newzoo.
Where do you see gaming in two to five years?
Join the conversation online, in our Discord or social media.